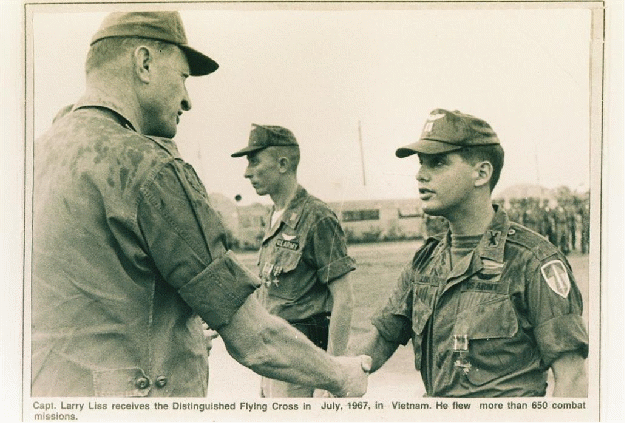 BIOGRAPHY: Larry Liss
Larry was born and raised in Penn Valley, Pennsylvania. He is a graduate of Harriton High School and the Pennsylvania Military College, now Widener University. He has a degree in English Literature and a minor in Military Science. He was commissioned a Second Lieutenant in June of 1963.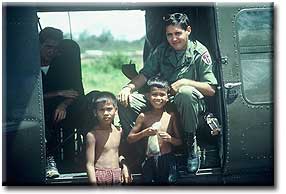 He completed his military service and retired in April of 1970 as a Captain. He received his wings as a helicopter pilot in September of 1966 and served as a combat helicopter pilot from September 1966 until February 1968. He flew a total of 650 combat missions. Some of his awards are: 25 Air Medals, one for Valor, the Bronze Star, 3 Purple Hearts, the Valorous Unit Award for extraordinary heroism, National Defense Service Medal, the Meritorious Unit Commendation, Vietnam Service Medal with three bronze stars, the Vietnamese Campaign Medal and the Distinguished Flying Cross for Valor.

He was also awarded the Vietnamese Cross of Gallantry for valor twice. During his flying career he amassed a total of 4,500 hours of flight time and held an Airline Transport Rating in Helicopters and Single and Multi Engine Airplanes.

In 2010 the BBC produced an award winning four part series entitled "Helicopter Missions." One of the episodes called "Vietnam Firefight," features one of Larry's missions and is better known as the Cau Song Bae Rescue Mission. This one hour episode continues to be shown throughout the World on YouTube and under the video tab on this site.

During his distinguished and multi-faceted business career he founded the Flightways Corporation which was a well known regional air carrier. He later became President of the Diversified Environmental Corporation, a 150 million dollar division of the LVI Group, a billion dollar NYSE Company.

In 2011, Larry became a member of the Distinguished Flying Cross Society, Board of Directors. Most recently Larry's name has been added to the Wall of Honor at the National Air and Space Museum. His name is also now inscribed on the Distinguished Flying Cross National Memorial. In early 2017 he was awarded the Order of St.George medallion for his exceptional service as a Cavalry Officer in both the Cold War and Viet Nam.

He continues to support a number of worthy causes. He is married to Celeste McQuade and has a daughter who lives in Los Angeles and works in the Film Industry along with her husband, Bob Goodman, a well known screen writer and currently the executive producer of the CBS successful series, 'Elementary' and most recently with the hit show '911'. He focuses on Courage, Honor, Loyalty and Kindness (see LINKS).

Larry can be reached, via his web site, www.larryliss.com